Developer plans HVAC upgrades at 23 of its Baltimore-area commercial properties
Baltimore Business Journal | Melody Simmons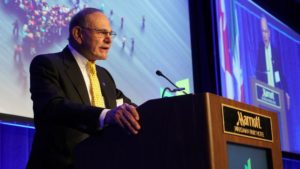 Nearly two dozen commercial properties owned by St. John Properties in the Baltimore area are being retrofitted with a new ultraviolet air purification system as Covid-19 workplace restrictions begin to lift.
The Woodlawn-based developer is among the largest in the mid-Atlantic with more than 21 million square feet of space in its portfolio. It recently ordered the upgrades from Columbia-based Smith Mechanical, which has developed a system to quell airborne contaminants like fungal spores, bacteria and several strains of viruses with a light-based disinfecting system.
The system uses ultraviolet lighting to help boost indoor air quality. Some research has shown that the lighting can zap airborne contaminants including virus spores containing Covid-19 within minutes.
Besides the ultraviolet rays, the upgrades will include new HVAC filters and upgrades to the system's self-cleaning system of its coils.
The work is part of a national trend to install and upgrade existing HVAC systems to provide better air quality and sanitation in workplaces as employees begin to return to offices amid the increased availability of Covid-19 vaccines.
"The health and safety of our clients and staff continues to be our top priority and we recognize that indoor air quality is now front of mind for many," said Bill McFaul, a senior vice president at St. John Properties, in a statement. "We were compelled to implement innovative air purification measures, a strategy that mirrors our leadership role in developing LEED-certified, sustainable commercial buildings."
McFaul declined to reveal the cost of the upgraded systems.
So far, nine of St. John Properties' commercial and Class A office buildings in Maryland have been outfitted with the new system. Another 14 are set to be upgraded in the coming weeks, McFaul said.
The developer has also upgraded more than 10,000 lighting fixtures in buildings in its portfolio with specialized light-emitting diode, or LED, equipment to cut back on energy consumption.
"As we continue our ultraviolet HVAC strategy rollout, it is important to emphasize the air quality measures that exist within the majority of buildings designed and constructed over the last 10 years, based on our ongoing commitment to follow LEED guidelines," said Ryan Schwabenbauer, who heads sustainability for St. John.