Dallas-based lender to consolidate 150 employees at Reisterstown Crossing
Baltimore Business Journal | Holden Wilen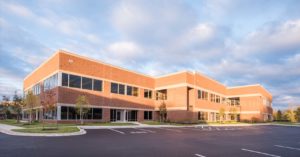 A Dallas-based mortgage lender has signed a deal with St. John Properties to consolidate 150 employees at Reisterstown Crossing.
Everett Financial Inc., which does business as Supreme Lending, will relocate its sales and production offices from Owings Mills and move its Meridian Team from Westminster to 15,492 square feet of space at 118 Westminster Pike. The move is expected to happen in October.
Michael Sacks of St. John Properties represented the landlord and Lizzy Sweeney of Cushman & Wakefield represented Supreme Lending in the lease transaction.
Glenn Belt, regional manager at the Meridian Team of Supreme Lending, said in a statement the company wanted to combine its offices under one roof in order to improve communication, operate more efficiently, reduce expenses and create a higher level of branch camaraderie. Many companies have been consolidating office space in the wake of the Covid-19 pandemic.
"We have consistently grown over the past 20 years, despite the cyclical nature of the residential mortgage industry, by keeping our team intact and making customer service a point of emphasis and differentiation," Belt said.
Supreme Lending chose to relocate to Reisterstown Crossing after mapping out the home addresses of all its employees to determine the most central location, Belt said.
"The area near the top of Interstate 795 emerged as the perfect location and that happens to be exactly where Reisterstown Crossing is situated," Belt said. "Things could not have worked out more perfectly."
The two-story office building at 118 Westminster is comprised of 30,600 square feet of Class A commercial office space. It will be outfitted and equipped to enhance the Meridian Team's abilities to deliver home loan financing to individuals and families across the U.S.
At full build-out, Reisterstown Crossing will feature four buildings comprising nearly 90,000 square feet of commercial office and retail. The development also contains 114 and 116 Westminster Pike, comprising 12,675 square feet of retail and 14,280 square feet of single-story office space, respectively.
As a result of the recent leasing activity, St. John Properties intends to complete development activities at Reisterstown Crossing with the construction of 120 Westminster Pike, a two-story building consisting of 30,600 square feet of commercial office space. The LEED-designed building is expected to be completed in 2022.
"Reisterstown Crossing is uniquely positioned for companies seeking access to northwest Baltimore County and Carroll County," Sean Doordan, executive president of leasing and acquisitions for St. John Properties, said in a statement. "Recent leasing activity, combined with our continued real estate success, provides us tremendous confidence to proceed with the final development phase of Reisterstown Crossing."