ICSC Mid-Atlantic Conference
Citybizlist | Larry Lichtenauer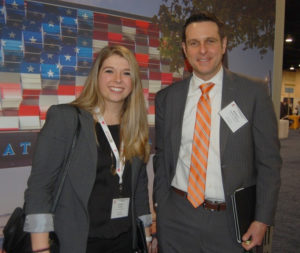 National Harbor, MD (February 7, 2017) -– When was the last time you heard the keynote presenter at a conference spew out his cell phone number before more than 1000 people at the end of the presentation, and encourage the gathering to contact him for any reason? Further, to repeat the number – in case people could not write it down fast enough the first time – as well as make an open offer to "call me for a ten minute meeting at any time or, better yet, spend an hour talking with me while I take my 5:30 am jog through Central Park in New York?" (I am not going to list that number here – you had to attend the Mid-Atlantic Conference and Deal Making session, sponsored by the International Council of Shopping Centers (ICSC) to get that information.) Fair is fair.
But, that is precisely what Peter Shankman, a nationally-known author, communications professional, speaker, marathon runner, skydiver and proud holder of Attention Deficit Hyperactivity Disorder actually did while mesmerizing the lunchtime crowd at the Gaylord National Resort and Convention Center at National Harbor. Because the audience was comprised of retail real estate developers, brokers, tenants and various professionals serving the retail industry, he also expounded about the importance of taking ownership of your mistakes, maintaining relevance, staying brief at all times when communicating and remaining top-of-mind. Shankman also stressed the importance of branding everything, "so people realize that a thought or a product comes directly from you."
Postscript: I sent Shankman a text at 7:24 am the next day and, true to his word, I received a response four minutes later at 7:28 am.
"I switched doctors because they asked for my fax number on a new patient form," Shankman told the audience. "I wrote 189. When they pointed out that I was missing seven numbers, I explained that I was actually correct. 189. Or, January, 1989 – the last time I owned a fax machine. When dealing with your target audience, you need to ask them what they want. And then, you need to provide exactly that. Part of this experience is remaining up-to-date on everything. Always stay relevant. Women participating in sewing circles was a method used long, long ago to exchange information and remain relevant with the news of the day. Now, it is the on-line community. When I exit an airplane in San Francisco and need a new shirt or a good restaurant, I search Google and obtain recommendations from my friends that have patronized local retailers. I trust them. I may not yet trust a store I casually walk into."
The entrepreneur that founded the service "Help a Reporter Out" spent an extensive amount of time discussing the importance of establishing a brand and remaining consistent. He encouraged the audience to "find something that strikes a chord with your audience and stick with it. Brand everything you do, so people know this comes from you. Also, take responsibility for your mistakes and own up to them." Shankman pointed out some high-profile cases surrounding politicians that dragged on and on, because the officials did not come clean from the beginning. "America loves nothing more than dragging someone down. The second thing they enjoy most is bringing someone back up from the depths," he added.
Shankman asked the audience to guess the attention span of the average person. "It is 2.7 seconds," he said, "which is about the amount of time it takes to read a text message." He said that every businessperson should work on becoming a better communicator, even if that means taking an improvisation class. And, be brief. Brevity is the new future. The new social currency is time, he added.
"People tend to not reach out to someone unless they need help," he stated. "I tend to think in reverse. Before reaching out to the universe to ask for help, I do ten things to help that person first. Part of the secret is always remaining top-of-mind among your audiences. Do things when they are unexpected. Ask for the favor later," he added.
Reactions from the crowd
"My major takeaway was that nice companies actually do finish first," stated Deirdre Johnson, Vice President, Asset Management for Federal Realty Investment Trust. "This was a reminder that companies are only defined by the people that inhabit them. This is especially true in the retail industry, where stores are constantly judged on how they interact with their customers. Everything Shankman said was basic common sense. We just need to remember to implement these things. I asked myself – how can I become just a little bit better?"
"Shankman told a story about giving large bags of M&Ms to the lead flight attendant when entering an airplane and how this gesture made them smile. It also made the trip better for all the passengers, because the flight crew typically tried just a little bit harder," said Eric Christensen, General Manager of Springfield Town Center. "My Dad used to do this with chocolate bars, so old memories were stirred up. He also spoke about the importance of making a more memorable impact on people. I am searching for ways to accomplish this. He also had a strong pay-it-forward message. I believe in business karma."
"I spoke to Shankman after his presentation, and we talked more about his message about honesty," explained John Voneiff, Director of ARCTRUST. "My belief is that people that lie always get caught. Maybe not immediately, but eventually. His comments about brevity resonated with me. People don't want their time to be wasted, so don't even bother writing long e-mails or text messages. I enjoyed his opinion about calling everyone back. I practice that and it works."
"My eyes were opened when he spoke about the critical importance of Social Media," stated John Henry King, Economic Development Director for the City of Bowie. "He demystified things for me and illustrated how important my Social Media accounts are to remain relevant and top-of-mind.
"He explained that most consumers have come to expect poor, if not terrible, service when dealing with companies. So, to stand out, you only need to be a little bit better than terrible.Sad to say, but I agree with that," said Matthew Meier of National Investment Center.
Officers from Women In Retail Real Estate (WIRRE), including its President, Tiffany Pugh of Finmarc Management, Inc., were passionately trying to recruit new members. "We have about eighty members and, in a male-dominated industry, we provide an organization where women can help each other, share ideas and really look out for each other. It is more of a sisterhood. Our members are not out to impress anyone. We generally have each other's best interest at heart. It is a large group with a small group feel."
"Everyone was locked in and in a deal-making mode," explained Bill Holzman, Vice President, Retail Leasing for St. John Properties, who was patrolling the show with colleague Brooke Harlander. "In particular, we conducted many conversations with restaurants, available pad-site locations and some grocery story availabilities. Interest is brisk – we detect no slowdown. Traffic was consistent with last year's Mid-Atlantic show and maintained momentum from ICSC in New York. Retail continues to roll."
http://baltimore.citybizlist.com/article/401261/peter-shankman-explains-importance-of-maintaining-relevance-brevity-and-remaining-top-of-mind-to-icsc-mid-atlantic-conference-attendees