St. John Properties Promotes Ryan Schwabenbauer to Assistant Vice President, Sustainability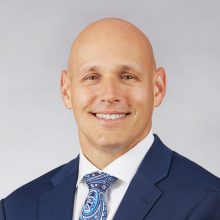 BALTIMORE, MD (November 11, 2022) – St. John Properties, Inc., a commercial real estate firm which has developed more than 22 million square feet of space and is active in nine states, has promoted Ryan Schwabenbauer to Assistant Vice President, Sustainability. Formerly Director of Sustainability, Schwabenbauer has worked with the company since 2016.

Schwabenbauer directs all aspects of the company's sustainability program, with a mission of implementing protocols to conserve energy and natural resources, developing and constructing environmentally-friendly buildings and executing a feasible and sustainable plan for green architecture. He is tasked with assuring that all newly-constructed office and flex/R&D buildings developed by the company earn Leadership in Energy and Environmental Design (LEED) certification, as well as designing and implementing strategies that promote sustainable practices by St. John Properties employees. Schwabenbauer is also responsible for maintaining the company's position as an innovator and leader in the building sustainability movement on a national level.

Schwabenbauer has more than 21 years of experience in the sustainability industry, having also worked with Maryland Environmental Service, as well as founding and operating a company that provided sustainability solutions to companies. He earned a Bachelor of Science degree in Finance from Pennsylvania State University and a Master of Business Administration from the University of Baltimore.

Among St. John Properties' core principles is to develop sustainable buildings constructed with materials that contribute to an eco-friendly environment, while maintaining indoor environments that promote employee wellness and conserve energy and resources. To that end, St. John Properties has constructed 100 buildings comprising nearly six million square feet of LEED-certified space across the country.

"The quality of indoor building environments has become a priority over the past several years, specifically the overall health of each building and the air our tenants breathe," explained Jeffrey Gish, Executive Vice President of Construction for St. John Properties. "We are extremely proud of our approach to develop and maintain healthy buildings, Ryan and our entire sustainability team remain committed to accelerating our efforts to even higher standards. Ryan's pro-active approach, forward thinking and knowledge of the sustainability industry has allowed us to break new ground and execute new strategies to further advance a scalable sustainability philosophy."

Founded in 1971, St. John Properties, Inc. is one of the nation's largest and most successful privately held commercial real estate firms. The company is distinguished by its commitment to customer service, achievements in green building, and top-rated workplace culture. Throughout St. John Properties' 51-year history, the company has developed more than 22 million square feet of flex/R&D, office, retail, warehouse space and has investments in over 2,600 residential units. The company proudly serves more than 2,500 clients in Colorado, Louisiana, Maryland, Nevada, Pennsylvania, Texas, Virginia, Utah, and Wisconsin. For more information about the company, visit www.sjpi.com.