St. John Properties Breaks Ground on First Northern Wasatch Front Development
12th Street Exchange to Rise Rapidly for Occupancy by End of 2023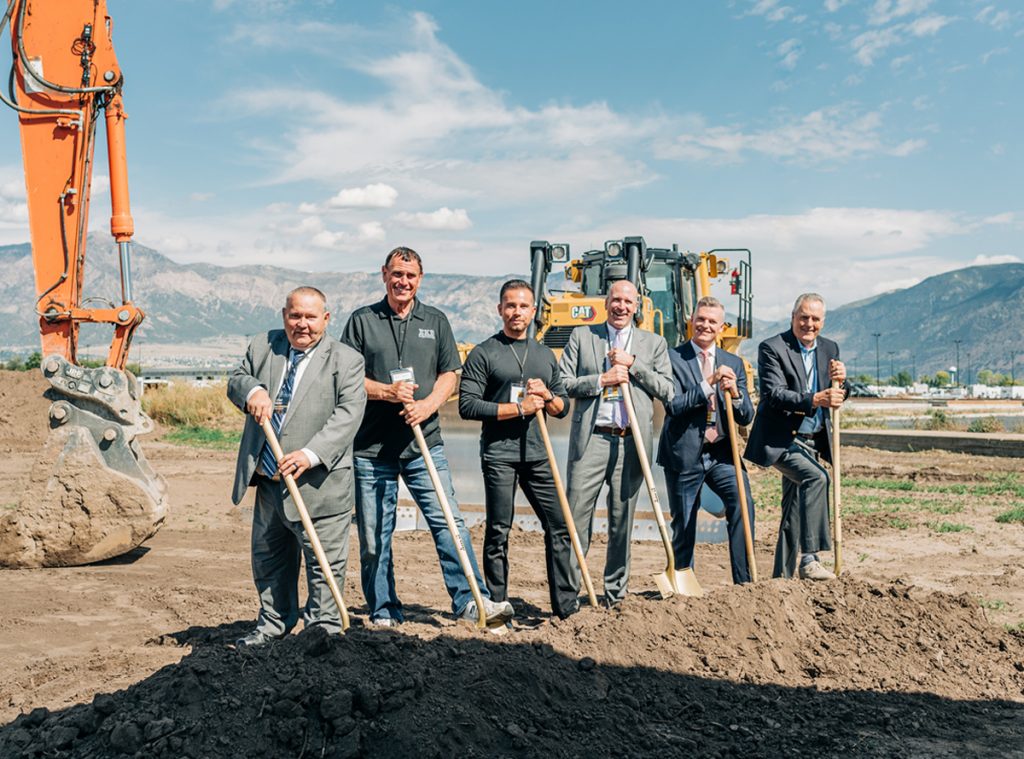 Marriott-Slaterville, UT — St. John Properties has broken ground on its fourth Utah development, and its first construction project north of Salt Lake City in Weber County, Utah. The new 12th Street Exchange is located at 1200 South and S 1900 West in Marriott-Slaterville just off I-15 near Ogden. Once completed, the 19-acre business community will offer 170,000 square feet of commercial flex/R&D and retail space. Guest speaker Vale Hale joined St. John Properties executives and area VIPs to celebrate the shovel turning event.

"It's exciting to see St John Properties expand into Northern Utah," stated Vale Hale, former head of the Governor's Office of Economic Development. "The flex space they are building just off the freeway on 12th Street is going to be a boon to the area. Industrial space in northern Utah is at a premium. This expansion is yet another testament to Utah's nation leading business environment."

Marriott-Slaterville is among a number of growing communities within the northern reach of the greater Salt Lake area. This newest expansion punctuates St. John Properties' plans to establish themselves as a major commercial developer in Utah and continue their expansion along the Wasatch Front.

"St. John Properties' is committed to Utah for the long run," stated Daniel Thomas, Regional Partner for St. John Properties Utah. "The success of our Valley Grove business community is a shining example of Utah's continued growth, with 90 percent occupancy of existing buildings. We see long-term opportunities based on the state's business-friendly environment."

The addition of 53,000 Utah jobs in just the past year creates business and residential demand that guides the course for other states to follow [Utah Department of Workforce Services]. The state's economic outlook and performance makes Utah a deliberate match with St. John Properties nation leading commercial property development [www.richstatespoorstates.org].

Earlier in the week, St. John Properties gathered a group of VIPs, including government and business leaders, for an event celebrating yet another Class 'A' office tower in Pleasant Grove, Utah. Once constructed, Valley Grove III will bring St. John Properties' commercial real estate portfolio in Utah to over 1 million square feet. The two developments are in Utah's hottest growth spots for business and residential.

Development of St. John Properties' Valley Grove broke ground in 2017. Valley Grove III has been designed to achieve LEED certification and will mark the business community's 22nd building, including Class 'A' office, flex/R&D, restaurants, and retail buildings, which will house over 3,000 tenant employees.

About St. John Properties
Founded in 1971, St. John Properties, Inc. is one of the nation's largest and most successful privately held commercial real estate firms. The company is distinguished by its commitment to customer service, achievements in green building, and top-rated workplace culture. Throughout St. John Properties' 51-year history, the company has developed more than 22 million square feet of flex/R&D, office, retail, bulk space and has investments in over 2,600 residential units. Expanding regionally in four Utah communities, St. John Properties recognizes the State's economic strength, pro-business climate, quality of life, and projected growth. For more information about the company, visit www.sjpi.com/utah.
Media Contact:
John Pilmer, PilmerPR
801-369-7535