St. John Properties Acquires Three-Building Portfolio in Anne Arundel County Comprising 120,000 Square Feet of Space
Aviation Business Park is located directly adjacent to Baltimore/Washington International Thurgood Marshall Airport in Glen Burnie, Maryland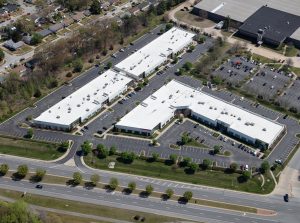 BALTIMORE, MD — St. John Properties, Inc., a Baltimore-based full-service commercial real estate firm which has developed more than 23 million square feet of space and is active in ten states, has acquired Aviation Business Park, a three-building portfolio in Anne Arundel County, Maryland comprising of over 120,000 square feet of commercial office space for an undisclosed price. The seller, Miami-based Adler Real Estate Partners, was represented by Graham Savage, Jonathan Carpenter and Dawes Milchling of Cushman & Wakefield, St. John Properties was self-represented. The assets were approximately 63% leased at the time of the transaction.

The portfolio consists of 6956 Aviation Boulevard, a single-story building comprising 54,310 square feet of space; 6958 Aviation Boulevard, a 35,361 square foot single-story building and 6960 Aviation Boulevard, a single-story building totaling 30,613 square feet of space. The assets are located adjacent to St. John Properties' Cromwell Business Park, a 165-acre mixed-use business community totaling nearly one million square feet of flex/R&D, commercial office and retail space.

St. John Properties plans to reposition one of the buildings at Aviation Business Park from commercial office to flex/R&D by installing drive-in doors and modifying a portion of the shared parking field for more loading capability. In total St. John Properties has budgeted approximately $1.5 million in capital expenditures for this project.

"We consider this an extremely synergistic and strategic acquisition based on the direct proximity to both BWI/Thurgood Marshall Airport and Cromwell Business Park," explained Sean Doordan, St. John Properties' Executive Vice President of Leasing and Acquisitions. "Our decision to convert a portion to flex/R&D space reflects the high demand for this asset class that persists in the marketplace. St. John Properties has a strong presence in the BWI corridor and we continue to find ways to expand within this competitive submarket."

This represents the second significant acquisition completed by St. John Properties within the last several months, following the purchase of Triangle Business Park. Now branded as part of St. John Properties' Baltimore Gateway, Triangle Business Park is a 95% occupied, four-building portfolio comprising of approximately 74,000 square feet of industrial and flex/R&D space last November. Two of the buildings are located in Baltimore City and two are situated in Baltimore County.

"As demonstrated by our recent acquisition activity, we intend to remain extremely aggressive throughout all market conditions for the search of value-add and stabilized assets that complement our existing portfolio," stated Doordan. "We believe compelling opportunities exist in all asset classes, both regionally and nationally, and our team is actively identifying and pursuing new acquisitions."

Founded in 1971, St. John Properties, Inc. is one of the nation's largest and most successful privately held commercial real estate firms. The company is distinguished by its commitment to customer service, achievements in green building, and top-rated workplace culture. Throughout St. John Properties' 52-year history, the company has developed more than 23 million square feet of flex/R&D, office, retail, warehouse space and has investments in over 3,000 residential units. The company proudly serves more than 2,500 clients in Colorado, Louisiana, Maryland, Nevada, North Carolina, Pennsylvania, Texas, Virginia, Utah, and Wisconsin. For more information about the company, visit www.sjpi.com.