Matt Lenihan Promoted to Assistant Vice President, Leasing for St. John Properties, Inc.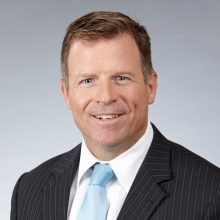 BALTIMORE (June 13, 2016) – St. John Properties, Inc., a full-service commercial real estate development and management company headquartered in Baltimore, has promoted Matt Lenihan to Assistant Vice President, Leasing. Formerly Leasing Representative, Mr. Lenihan has worked for the company since 2001.
Mr. Lenihan will continue his role of marketing and leasing efforts for St. John Properties' portfolio of commercial office and R&D/flex space situated in the Baltimore City, Baltimore County and Harford County marketplaces. This includes identifying companies that are seeking new or expanded office, industrial/warehouse and R&D/flex space, assisting with negotiations for new leases and renewals, and forming and maintaining relationships with commercial real estate brokerage professionals throughout the region.
Mr. Lenihan earned his Bachelor of Science degree in Civil Engineering from Virginia Tech University, and a Masters of Business Administration from The Robert H. Smith School of Business at the University of Maryland at College Park.
"Matt is a highly respected real estate professional with eighteen years of experience in the industry," explained Lawrence Maykrantz, President of St. John Properties, Inc. "He has been instrumental in strengthening relationships with our existing tenants, establishing new business prospects for the company, and remaining active and visible in the local real estate and business communities."
St. John Properties, Inc., founded in 1971, owns and has developed more than 17 million square feet of R&D/flex, office, retail and warehouse space in Virginia, Maryland, Colorado, Louisiana, Nevada, Pennsylvania, Utah and Wisconsin. For more information about the company, visit sjp.mu9b0uf9-liquidwebsites.com.
For more information, contact:
Jay Riley, Director of Marketing, St. John Properties, Inc.
410-369-1277