Lori Rice Promoted to Vice President and Controller for St. John Properties, Inc.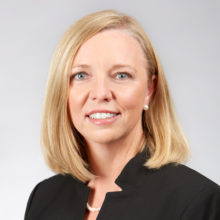 BALTIMORE (August 23, 2011) – St. John Properties, Inc., a Baltimore-based real estate development and management company, has promoted Lori Rice to Vice President and Controller. Ms. Rice has worked for the company since 2000.
Ms. Rice will continue her role of overseeing the company's accounting and financial reporting activities for the firm's commercial office, R&D/flex, retail and warehouse real estate portfolio, which consists of more than 15 million square feet of space. This includes managing the accuracy and productivity of accounting operations encompassing accounts payable, cash disbursements, fixed asset records and general and entity accounting. She also manages relationships and assists with activities of outside accounting firms, financial institutions, and insurance companies.
Ms. Rice earned her Bachelor of Science degree in Accounting from Mount St. Mary's College and is a Certified Public Accountant in the State of Maryland. She resides in Catonsville with her family.
"Lori's knowledge of our company, combined with her strong financial skills and outstanding work ethic, has made her an integral and valuable member of our financial team and accounting team," explained Lawrence F. Maykrantz, President of St. John Properties. "During her tenure with the company over the past ten years, she has formed strong relationships with our financial, accounting and outside partners."
St. John Properties, Inc., founded in 1971 as MIE Properties, owns and has developed more than 15 million square feet of R&D/flex, office, retail and warehouse space in Maryland, Colorado, Louisiana, Virginia and Wisconsin. For more information about the company, visit sjp.mu9b0uf9-liquidwebsites.com.