Jacqueline Pfeiler Promoted to Vice President, Finance for St. John Properties, Inc.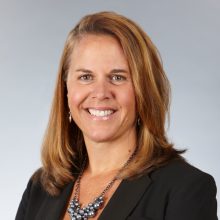 BALTIMORE(August 15, 2011) – St. John Properties, Inc., a Baltimore-based real estate development and management company, has promoted Jacqueline Pfeiler to Vice President, Finance. Ms. Pfeiler has worked for the company since 1991.
Ms. Pfeiler will continue her role of overseeing the financing activities of the firm's commercial office, R&D/flex, retail and warehouse real estate portfolio, which consists of more than 15 million square feet of space. This includes establishing, strengthening and maintaining on-going relationships with financial institutions, staying updated on the new financial regulations and working with the company's internal accounting and finance staffs.
"This promotion reflects Jackie's outstanding work over the past twenty years in the oversight and management of our corporate financing component," explained Lawrence F. Maykrantz, President of St. John Properties. "She brings an in-depth knowledge and understanding of our growing real estate portfolio, combined with excellent contacts and relationships in the local and national financial sectors. Jackie works diligently to remain updated on the changing financial requirements of the lending community and is an integral member of our team."
Ms. Pfeiler earned her Bachelor of Arts degree in Economics from the University of Maryland at Baltimore County and resides in Catonsville with her family.
St. John Properties, Inc., founded in 1971 as MIE Properties, owns and has developed more than 15 million square feet of R&D/flex, warehouse, office and retail space in Maryland, Colorado, Louisiana, Virginia and Wisconsin. For more information about the company, visit sjp.mu9b0uf9-liquidwebsites.com.
For more information, contact:
Al Cunniff, Director of Marketing, St. John Properties, Inc.
410-788-0100