Dominion Electric Supply Signs 9,000 Square Foot Lease at Ashburn Crossing
Location will be utilized as office and warehouse for electrical supplies distributor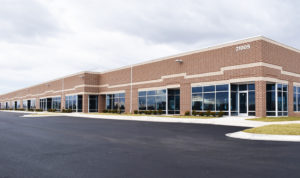 LEESBURG, VA (August 1, 2019) – Dominion Electric Supply Company, Inc. has signed a lease with St. John Properties, Inc. for 9,000 square feet of space within 21005 Ashburn Crossing Drive in Ashburn Crossing. The 81-acre business community in Loudoun County, Virginia will comprise more than 200,000 square feet of R&D/office/flex space, at final build-out. Danny Foit of St. John Properties represented the landlord, and Kevin Goeller, Ryan Goeller and Chase Stewart of NAI KLNB represented the tenant in this transaction.
Headquartered in Arlington, Virginia, Dominion Electric Supply Company is a distributor of electrical supplies and lighting fixtures for commercial and residential uses. Founded in 1940, the company operates twelve locations throughout the Maryland and Virginia region including three lighting showrooms in Arlington and Chantilly, Virginia and Laurel, Maryland. The Ashburn site will be utilized as an office and warehouse for the sale and service of electric supplies and lighting fixtures. Approximately five full-time employees are expected to work in Ashburn Crossing upon the store's opening in October.
"We had our sights on the Ashburn area to expand for quite some time and, considering the strategic location and ease of accessibility provided by Ashburn Crossing, we jumped on the opportunity when it became available," explained Joe Baxter, Director of Branch Sales for Dominion Electric Supply. "Our long-time relationship with St. John Properties made the decision that much easier."
"Dominion Electric Supply is an extremely recognized brand throughout the Virginia and Maryland region, and this represents the company's second location within the St. John Properties portfolio," stated Matt Holbrook, Regional Partner for St. John Properties. "The strategic location of the business community, which will enable customers easy access to the site from major highways, was a significant consideration in the real estate decision. This transaction kicks off our leasing activities at 21005 Ashburn Crossing, and we continue to experience extremely strong activity for the remaining spaces."
21005 Ashburn Drive is a single-story 43,800 square foot flex/R&D building featuring suites ranging from 2,760 up to 29,280 square feet of space, dock and drive-in loading capacity and free parking at the rate of four spaces per 1,000 square feet. It was constructed to exceed Leadership in Energy and Environmental Design (LEED®) Gold certification for environmental sustainability to conserve energy and reduce operating costs. In addition to traditional "green" features such as high-efficiency HVAC, windows/roofing, and plumbing systems, St. John Properties partnered with Loudoun Water to bring safe non-potable reclaimed water to Ashburn Crossing for irrigation.
Ashburn Crossing is located off Loudoun County Parkway and benefits from the Gloucester Parkway Extension which connects directly to VA Route 28. The business community is approximately 10 miles north of Dulles International Airport and 30 miles west of Washington, D.C. It is sited where Data Center Alley meets the entertainment/dining/shopping district of One Loudoun, Top Golf, I-Fly, Dulles Town Center and Redskins Park.
The business community is situated between two St. John Properties' existing business communities: Ashburn Technology Park (445,000 square feet of space located 1.5 miles southwest) and Loudoun Tech Center (125,000 square feet of space located two miles due east). In the last several years, St. John Properties also sold several large local properties to data center users.
St. John Properties, Inc., founded in 1971, owns and has developed more than 20 million square feet of Flex/R&D, Office, Retail and Warehouse space in Maryland, Colorado, Louisiana, Nevada, Pennsylvania, Virginia, Utah and Wisconsin. The company was named "2018 Developer of the Year" for the Nation by NAIOP, the Commercial Real Estate Development Association. For more information about the company, visit sjp.mu9b0uf9-liquidwebsites.com.