Baltimore County Board of Elections Relocates Headquarters to Owings Mills
Newly expanded and centralized Board of Elections site to be housed in St. John Properties' 5 Crossing Way at Dolfield Business Park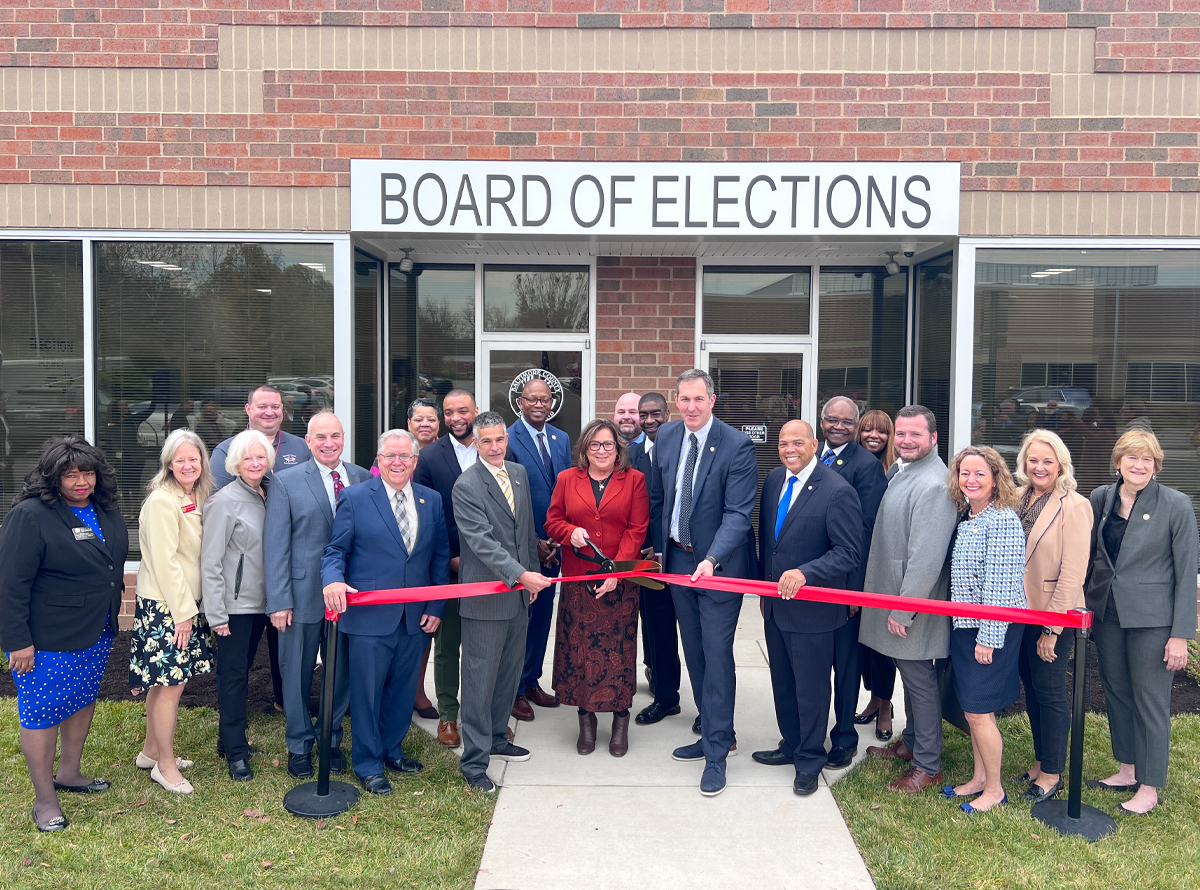 BALTIMORE, MD – The Baltimore County Board of Elections has signed a full-building lease with St. John Properties, Inc. for 45,120 square feet of space at Dolfield Business Park in Owings Mills, with plans to consolidate three current locations situated around the county within 5 Crossing Way. Raphael Alterman, Partner in Training at St. John Properties represented the landlord and Harry Dematitis and Kydin Nourazar of KLNB represented the tenant in this transaction.

The one-story building will be used to accommodate the Baltimore County Board of Election's general office needs, voting and equipment storage, as well as for election judge training, equipment testing and early voting and ballot canvassing. It will also be utilized as an early voting center, and provide the public with voting services.

"In addition to our building requirements, the capacity to offer an accessible, safe and welcoming voter experience while developing synergy with our valued employees, election judges and the voters of Baltimore County was at the top of our list," said Baltimore County Board of Elections Director Ruie Lavoie. "This consolidation will give our team ample time, space, and resources to prepare for and conduct an efficient, secure 2024 election season. We appreciate the partnership with the County and its recognition of the importance of election integrity and security."

5 Crossing Way is equipped with 18-foot ceiling heights and dock and drive-in loading capabilities, and is surrounded by a free surface parking lot. The 44-acre Dolfield Business Park is situated approximately two miles from the shops and restaurants at Foundry Row, Mill Station, and Owings Mills Metro Centre, as well as two miles from Interstate 795, four miles from Interstate 695, and 13 miles from Towson.

"Having nearby food amenities is extremely important to employees, and there is a diverse array of sit-down and fast-casual restaurants just a short drive away from Dolfield Business Park," LaVoie added. "The business community is sited near woodlands and is suitable for walking and exercising during the lunch hour, which is another attractive benefit."

"With the need for space that can accommodate both office and warehouse uses, 5 Crossing Way is perfectly suited to satisfy the real estate requirements of the Baltimore County Board of Elections," stated Matt Lenihan, Senior Vice President, Leasing for St. John Properties. "The business park's strategic positioning in the northwest Baltimore County corridor off Interstate 795 makes it a convenient location for Baltimore County voters and election officials."

Founded in 1971, St. John Properties, Inc. is one of the nation's largest and most successful privately held commercial real estate firms. The company is distinguished by its commitment to customer service, achievements in green building, and top-rated workplace culture. Throughout St. John Properties' 52-year history, the company has developed more than 23 million square feet of flex/R&D, office, retail, warehouse space and has investments in over 3,000 residential units. The company proudly serves more than 2,500 clients in Colorado, Florida, Louisiana, Maryland, Nevada, North Carolina, Pennsylvania, Texas, Virginia, Utah, and Wisconsin. For more information about the company, visit www.sjpi.com.