Annual Lakeshore Plaza Winter Carnival Scheduled for December 7th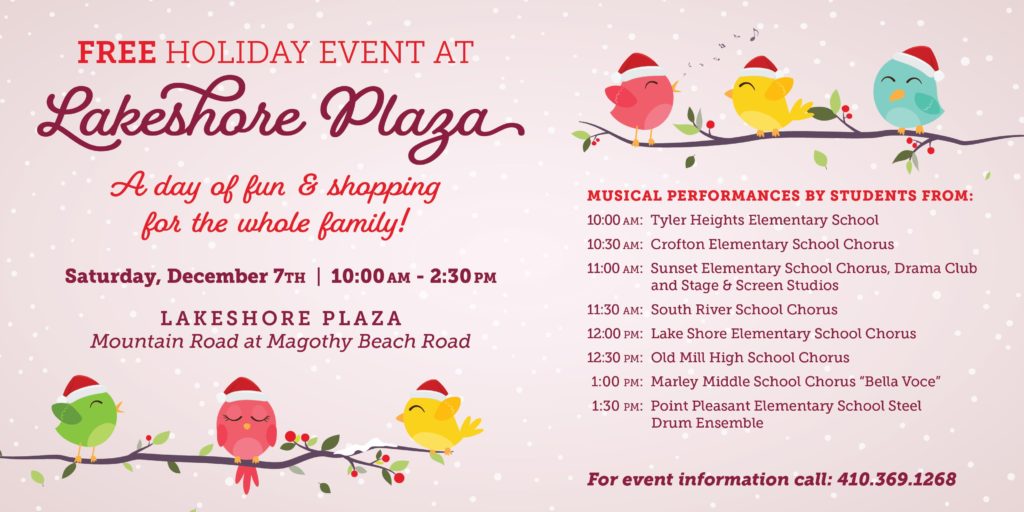 PASADENA, MD  (November 22, 2019) – Lakeshore Plaza's Winter Carnival, an annual event that is free to the general public, is scheduled for Saturday, December 7 from 10 am to 2 pm and will feature holiday musical presentations from eight Anne Arundel County public schools. The event will take place for the 14th consecutive year at the outdoor retail venue located near the intersection of MD Route 100 and Magothy Beach Road in Pasadena.
The entertainment schedule is:
10 am: Tyler Heights Elementary School
10:30 am: Crofton Elementary School
11 am: Sunset Elementary School
11:30 am: South River High School
Noon: Lake Shore Elementary School
12:30 pm: Old Mill High School
1 pm: Marley Middle School
1:30 pm: Point Pleasant Elementary School
Nearly 300 students are expected to participate in this year's Winter Carnival. The event will also include an exhibition by the Chesapeake High School robotics team and appearances by the Baltimore Orioles Bird mascot, the Baltimore Ravens mascot and the Baltimore Ravens cheerleading troupe. Santa Claus will be present throughout the day to pose for holiday photos.
Lakeshore Plaza includes a mix of more than 20 stores including sit-down and fast-casual restaurants and is anchored by Safeway Food & Drug, Ace Hardware, Pet Valu and Two Rivers Steak & Fish House. For additional information, contact St. John Properties, Inc., the owner and manager of the outdoor shopping venue, at 410.788.0100.