1623 Brewing Company Tripling Capacity in Expanded Space at Liberty Exchange
Carroll County brewery will increase brewing production from 5,000 to 15,000 barrels, and expects to hire more than 10 additional employees by year-end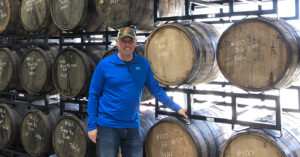 BALTIMORE, MD (April 20, 2021) – Just over one year after launching its beer production operations at Liberty Exchange in Carroll County, 1623 Brewing Company has expanded its space by more than 40% with the signing of a lease for an additional 7,821 square feet with St. John Properties, Inc. The expansion increases the brewery's footprint to just over 19,000 square feet and will fuel the tripling of brewing capacity from 5,000 to 15,000 barrels annually. Angelo Munafo of St. John Properties represented the landlord in this lease transaction.
Family-owned 1623 Brewing Company draws its name from the distance in miles between Westminster, MD — the home of co-owner Mike McKelvin — and the Elizabeth, Colorado residence of head brewer and co-owner Zac Rissmiller, who is also McKelvin's cousin. 1623 Brewing Company employs 29 full and part-time workers at Liberty Exchange, a number that is expected to grow by 10 by year-end to handle the production of approximately 17,000 cases of beer on a monthly basis. The location at 5975 Exchange Drive includes brewing operations, sales and administrative offices, logistics and warehouse space, and a taproom open to the general public. Prior to its move to Liberty Exchange last year, 1623 Brewing Company functioned as a contract brewer utilizing equipment contained in a local brewhouse.
"The pandemic put a dent in our taproom attendance and sales to restaurants, which are both now returning to normalcy, but we more than made up for those declines in skyrocketing interest from package goods stores which represent 85% of our business," explained Mike McKelvin. "Our product line has been embraced by the regional market, and we fully expect to expand again in the near future as we continue to gain market share and add new products including seasonal varieties. This location provides us access to an enthusiastic beer community in Carroll County, while also offering easy connections to Northern Virginia, suburban Maryland and Washington, D.C. and the southern sections of Pennsylvania."
All brewing operations are under the direction of Zac Rismiller who co-founded Resolute Brewing in Centennial, Colorado and functioned as Manager of Brewery Operations for Rockyard Brewing Company in Castle Rock, Colorado. 1623 Brewing Company produces a variety of brews including Hefeweizen, India Pale Ale, Pilsner, Dry Irish Stout and multiple seasonal varieties. "We consistently strive for innovative products with a nod to the past, respect for the great brewing companies in this country, and realization of what consumers are searching for in classic brands," Rissmiller explained prior to the brewery's launch last year.
Liberty Exchange is a 40-acre mixed-use business community situated near the intersection of MD Routes 32 and 26 (Liberty Road) in Carroll County. It is comprised of seven buildings consisting of more than 200,000 square feet of flex/R&D, office and retail space, and includes three pad sites fronting Liberty Road. It is located seven miles from Interstate 70, 20 miles from Columbia, and approximately 30 miles from downtown Baltimore and BWI International Airport.
"Our flex/R&D product has proven to be uniquely suited for craft beer producers. The open floorplates allow for production, operations, and a taproom to be housed under one roof," stated Sean Doordan, Senior Vice President, Leasing and Acquisitions at St. John Properties. "We are impressed with the efforts made by 1623 Brewing Company to overcome the challenging conditions of this past year, and consider their presence at Liberty Exchange an amenity to the business community."
Founded in 1971 and headquartered in Baltimore, Maryland, St. John Properties, Inc. is one of the Mid-Atlantic's largest privately held commercial real estate firms. The company is distinguished by their commitment to customer service, achievements in green building, and top-rated workplace culture. Throughout St. John Properties' 50-year history, the company has developed more than 21 million square feet of flex/R&D, Office, Retail and Warehouse space serving more than 2,500 clients in Maryland, Colorado, Louisiana, Nevada, Pennsylvania, Virginia, Utah, and Wisconsin. For more information about the company, visit sjp.mu9b0uf9-liquidwebsites.com.