St. John Properties to add solar panels to all its new projects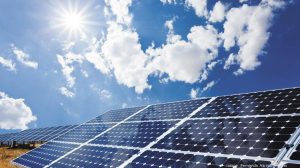 The Baltimore Business Journal | Melody Simmons

St. John Properties is going solar.

The 51-year-old Woodlawn-based developer that has expanded into 10 states over the past decade or so has committed to adding solar panels to its new flex, office and warehouse projects from here on out.

Ryan Schwabenbauer, assistant vice president for sustainability at St. John, said this month the push is part of a focus to continue the company's energy upgrades. This year alone, at least 10 new developments will have solar installations, he said. Local vendor, Catonsville's Capital Solar Group, is helping support the push alongside new technology in solar power that "allows us to make the numbers work."

"It makes sense financially," Schwabenbauer said, of St. John's commitment. "We're going to get a financial payback on it in a reasonable amount of time."

Schwabenbauer said his background is in finance, and that the solar platform at St. John is part of an overall effort to upgrade new buildings with sustainable features. That saves the tenant on energy costs and has helped attract national leases, he said. That has long been a goal of founder Edward St. John, he added.

After Covid, St. John began to outfit most of its properties with a unique "UV Whole Building Air Purification" system that used a light-based air disinfecting system to eliminate airborne pathogens like fungal spores, bacteria and viruses that have been detected in HVAC equipment.

In addition, St. John recently was awarded its 100th LEED certification from the U.S. Green Building Council, Schwabenbauer said.

The benchmark was awarded for a new flex building in St. John's emerging Melford Town Center development in Bowie off Routes 50 and 3/301. In total, St. John has developed about 6 million square feet of LEED-certified space in its portfolio.

"We anticipate demand for LEED space for both publicly-traded and private companies will grow alongside demand from employees who demand sustainability from their employees," he said, in a brief interview.