'It's a way to reach out': Tony Locos in Woodbine providing free toilet paper with all carryout orders
The Baltimore Sun  | Jess Nocera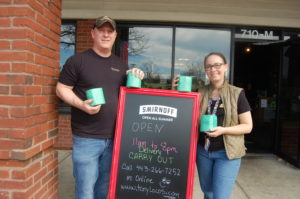 When customers purchase a carryout meal from Tony Locos Bar and Restaurant in Woodbine, they are leaving with more than a fusion of Puerto Rican, American and Italian food: They're also getting a free roll of toilet paper.
After Maryland Gov. Larry Hogan issued an executive order halting on-premise dining across the state as a result of the coronavirus pandemic, local restaurants, bars and other eateries responded by offering carryout, curbside delivery and delivery options.
Tony Locos took it a step further by letting their loyal customers know, "We got your back (side)," the restaurant wrote in a March 17 Facebook post.
"Through these difficult times, we here at Tony Locos never want to lose sight of our humor and our humanity," the post reads.
Owner Tony Guarino said it was a "spur-of-a-moment thing" to offer the free toilet paper.
On March 17, 10 cases of toilet paper, or 1,000 rolls, were delivered to Tony Locos, ready to be given out to customers. As of Wednesday, Guarino has about 300 rolls left and is planning to order more.
If customers need more than one roll, Guarino gives them a couple, he said.
"It's something small; it's a way to reach out," Guarino said. "Sometimes the smallest thing means so much to people."
Tony Locos also will continue its weekly Monday and Tuesday giveback nights, where 10% of all profits benefit the community. This week, the profits went to the Lisbon Volunteer Fire Company.
Vicky Cutroneo, a Woodbine resident and Howard Board of Education member, went to Tony Locos on Sunday evening to get dinner for her family.
"I want to support small businesses during this time, especially in Western Howard County because we only have [like] five restaurants. It's more important than ever to support them," Cutroneo said.
Tony Locos currently is offering carryout, curbside pickup and delivery, and alcohol beverages are available for purchase with any food item. Patrons may also purchase gift cards to support the restaurant.
The various dine-out options are available from 11 a.m. to 8 p.m. Sunday to Thursday and from 11 a.m. to 9 p.m. Friday and Saturday.
Tony Locos is located at 4710 Lisbon Center Drive in Woodbine. The menu can be found at tonylocos.com, and orders can be placed online or by calling 443-266-7252.
Restaurants and bars across the county are open for carryout, curbside pickup and delivery services, including in Ellicott City, Laurel, Columbia, Fulton, Clarksville and Elkridge.
As of Wednesday, there have been at least 423 confirmed cases of the coronavirus in Maryland, according to state officials, with 35 of those in Howard County. There have been four deaths in the state, with all victims having underlying health and/or medical conditions.