Baltimore Pickleball Club opening 12,000-square-foot venue in Baltimore County
Joanna Sullivan | Baltimore Business Journal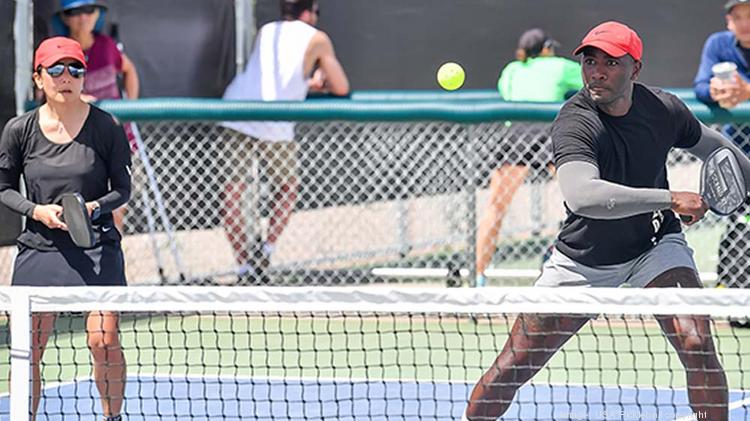 A mother-daughter team enamored with pickleball — an uber-popular sport that mixes tennis, Ping Pong and badminton — is opening a 12,000-square-foot, year-round indoor venue in a Timonium business park.

Bonny Gothier and her daughter, Alex Guerriere, and the rest of the Baltimore Pickleball Club LLC owners group, signed a lease in a single-story building at the Timonium Exchange, a 200,000-square-foot complex at 2125-2131 Greenspring Drive.

Bill Holzman, vice president of retail leasing for St. John Properties, represented the landlord and John Schultz, senior vice president and principal for MacKenzie Commercial Real Estate Services, represented the tenant in the transaction. The center is expected to open in late 2023.

Gothier said she became "obsessed" with pickleball after being introduced to the sport at her family's winter home in Key Largo, Florida, four years ago. But unlike her snowbird neighbors from Connecticut and New Jersey, she realized she couldn't keep up with pickleball during the winter because there were no indoor facilities nearby. Still, she often saw people playing outdoors in the county even in the cold and rain.

"They're playing in subpar conditions, old tennis courts that have cracks in them, basketball courts that have grass growing on them," Gothier said Thursday. "There's a huge void here. Why is Baltimore behind the eight ball?"

The Baltimore Pickleball Club space will include four pickleball courts, a practice wall and a mezzanine level where people can watch matches below. The ownership group is also considering putting treadmills or exercise equipment on that level so players can warm up. An enclosed private viewing area, a pro shop and locker rooms are also in the plans.

Gothier said she wanted to open a venue with 12 to 14 courts but that the hot industrial real estate market made it too difficult to find such a space in the Baltimore metro area. She is already thinking about expansion and has been talking to investors about creating the concept elsewhere in the U.S.

Gothier's passion for the game apparently isn't unique. The Sports & Fitness Industry Association claims more than a half-million people have taken up pickleball since early 2021 — and more than five million currently play regularly. There's even a Pickleball magazine, which credits the sport's invention to Joan Pritchard, who in 1965 created a game with Ping Pong paddles and a wiffle ball on a badminton court. The word "pickleball" was apparently a reference to the "thrown-together leftover non-starters in the pickle boat of crew races."

The sport's popularity prompted Denis and Will Richards to sign a lease to open Dill Dinkers in a 15,000-square-foot light-industrial complex at 9179 Red Branch Road in Columbia this fall. The Howard County property has six pickleball courts and offers memberships, camps, clinics and lessons.

Guerriere said the ownership group is counting on pickleball becoming a high school and college sport so the facility could act as a training center for youth honing their skills or as a venue for competitive leagues.

"The building had the necessary high ceilings that are critical for pickleball play, and its location immediately off several major highways will allow participants — as well as schools — from a large radius to easily access us," she said in a statement. The free parking at the site also made the site attractive, she said.

Baltimore Pickleball Club will offer drop-in play, leagues and tournaments and private lessons through memberships. Gothier said she's not sure how the membership will be structured. The club will also offer space for children's birthday parties and corporate team-building events.